When we discuss the threat of white nationalists and their 'movement', tattooed skinheads, greasy incels, and men in white robes with tiki torches is often what comes to mind. On a more general note: men. We think of men; of Hitler and his soldiers and Trump and his supports. And yet, women made up roughly half of Hitler's voters, and 53% of white women voted for Trump. White women have always played an integral part in the persistence of white nationalism, to ignore their involvement would be a grave mistake.
Through sexist lenses viewing women, especially white women, as innocent, submissive, and inherently good-hearted and nurturing, the hate that rushes through so many of them is often dismissed, disregarded, and derided into 'Karen' memes. But throughout history, we can clearly see a pattern of racist women lethally weaponizing their perceived purity against black people.
Whether that be through falsely accusing black men of sexual assault, causing them to be lynched and incarcerated, or calling the police on black people who are just minding their own business, fully knowing – and even flaunting – what the institutional racism within the force could lead to.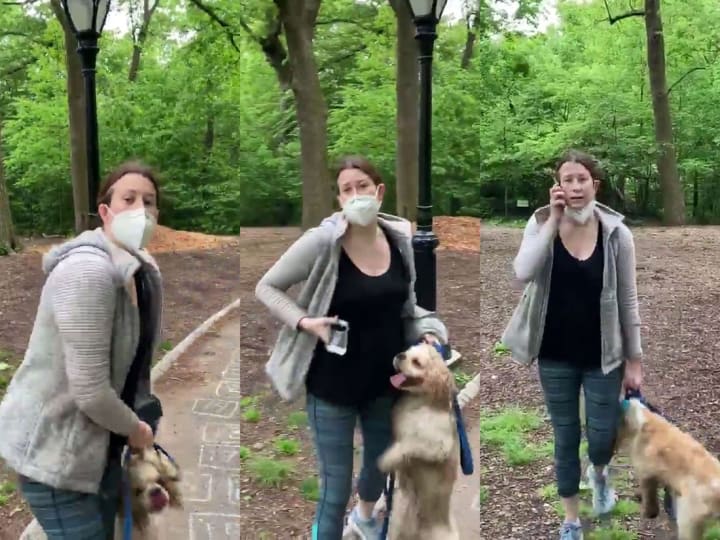 Amy Cooper: A woman who called the police on a black man after he asked her to put her dog on a leash as per park requirements. Images from Christian Cooper.
It is true that it is the men who are most often the leaders of racist organisations and the ones to carry out violent protests. However, white nationalist women are not only the backbone and very often the organisers of these groups and their marches, but the perfect propaganda picture to ensnare vulnerable looking for stability and community.
"Hate can be understood as a social bond, a complex phenomenon that occurs among people as a means of mattering and belonging."
Sisters in Hate: American Women on the Front Lines of White Nationalism, written by the piercing journalist Seyward Darby, profiles three women who have and are holding prominent positions within a range of different racist operations. One woman, Corinna Olsen, who has now left the movement and converted to Islam, found her path to White nationalism as she was deep in the grief of her brother and longed for a community.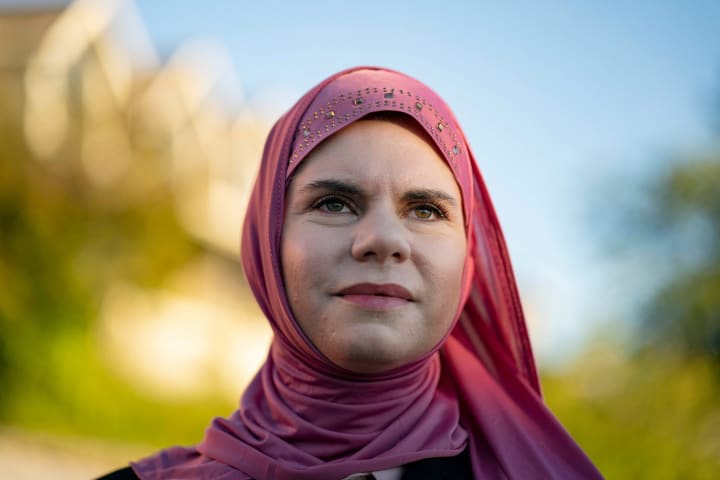 Corinna Olsen photographed by Ruth Fremson for the New York Times
She knew that her brother used to hang out with guys who would call themselves skinheads, and following his death, she was curious to find out more about him and keep his memory alive. That's how she found Stormfront: "A white nationalist, white supremacist, antisemitic, Holocaust-denialist, and neo-Nazi Internet forum, and the Web's first major racial hate site. In addition to its promotion of Holocaust denial, Stormfront has increasingly become active in the propagation of Islamophobia."
The second woman, Ayla Stewart, used to be a pro-gay, feminist, vegan blogger. As she became a mother and converted to Mormonism her values started to shift and her life's ambition became being – at face surface – a "tradwife". But you don't have to scratch for long before the image of a "good, normal American wife" starts to show it's true sinister substructure.
And then we have Lana Lokteff, who may be one of the most eminent women within white nationalist and neo-nazi conspiracy circles online today. With her long blonde hair, blue eyes, Swedish husband and children she is a poster-girl for racist hate-groups. With cunning and stern words, she, like Ayla, advocates for White supremacy under the disguise of weaponized motherhood and the simply conservation of European values, tradition, and race.
Elizabeth Eckford and Hazel Bryan in Little Rock in 1957
This book is heavy. It took me about a month to get through – I would read 200 pages in one sitting, and then go on to not touch it for over a week simply because of the dread and disturbance that carried with it. And it should be heavy – there is nothing light about violent racism. But it is also excellently written; empathetic (not sympathetic) and confidently critical. Darby breaks down the tactics and rhetoric used to defend as well as recruit members with such precision that it cannot be ignored. Sisters in Hate is an unforgettable look behind the curtain and one we should all take note of.
We have a tendency to over-generalise communities that we don't interact with; for example by labelling violent racists as simple-minded bigots and neglect to dig deeper. But in order to dismantle racism and white supremacy, we have to understand it. Properly and in grave depth. Not just how the system works and the intricacies within it, but how the people who run it think and how they talk.
These three women all came from wildly different backgrounds, and yet they all ended up in the same place: hate. To understand what makes someone and join and what can make someone leave is integral.
As Darby speaks on in the conclusion of the book, the language that white nationalists used in propaganda is eerily similar to that of many white moderates and liberals.
I have almost reached the regrettable conclusion that the Negro's great stumbling block in his stride toward freedom is not the White Citizen's Counciler or the Ku Klux Klanner, but the white moderate, who is more devoted to "order" than to justice; who prefers a negative peace which is the absence of tension to a positive peace which is the presence of justice.
– Martin Luther King Jr. (1963) Letter from a Birmingham Jail.
We have to open our eyes to all the bricks that uphold systemic racism, not just the loud and blatant. In a fight for justice, there can be no room to cater to white politeness. Do not be fooled – there is nothing polite about this.
Purchase your copy of Sisters in Hate: American Women on the Front Lines of White Nationalism here.