Following a group of four black American Vietnam-war veterans, we tread with careful steps through ghostly memories and volatile grounds as the men return to a field they never truly left. With a masterful cast, immersive cinematography, a Hollywood classic soundtrack, and charmingly frank directing, it's safe to say that Spike Lee has done it again.
In present-day Vietnam, four old friends and veterans – who call themselves the 'Bloods' – reunite in Ho Chi Minh City on a mission to find and bring back the remains of their 5th member and lost comrade Stormin' Norman; played by Chadwick Boseman in flashback sequences. The Bloods consists of pacifist and at peace Otis (Clarke Peters); the friendly and apparent millionaire Eddie (Norm Lewis); hedonist buddy Melvin (Isiah Whitlock Jr.); and the star of the movie: MAGA loving Paul (Delroy Lindo).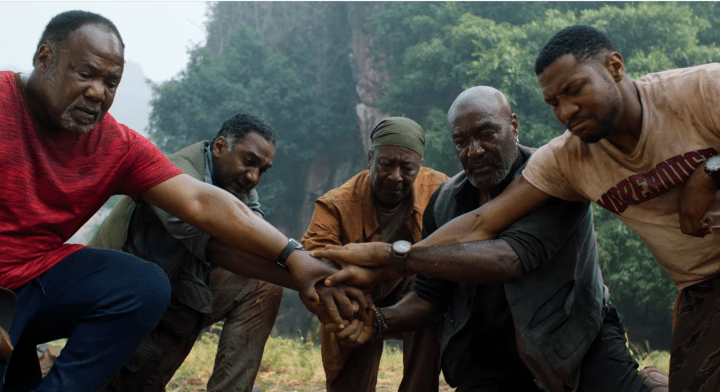 Netflix / Da 5 Bloods
Throughout his career, Spike Lee has never been shy or subtle about his opinions on political issues. At first glance, one might then assume that Delroy's character is going to be nothing more than a satirical caricature of a Trump supporter, but it very quickly becomes clear that's not the case.
Although the other Bloods do poke fun at him when he admits to voting for Trump, he as a character is never ridiculed. Instead, he is explored through the past and present to reveal a deeply tormented and complex man.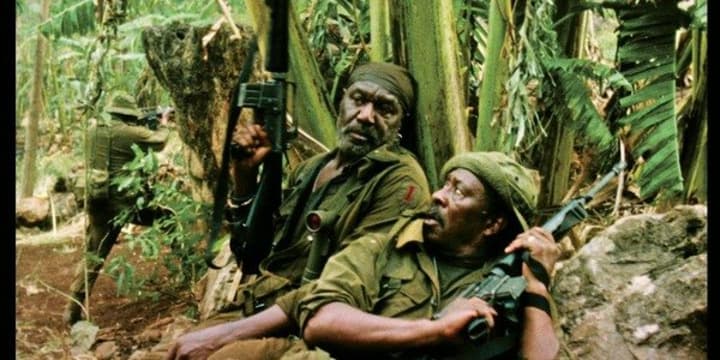 Netflix / Delroy Lindo and Clarke Peters in 'Da 5 Bloods'
'We been dying for this country from the very get, hoping one day they'd give us our rightful place. All they give us was a foot up our black asses. Well, fuck that. I say the USA owe us. We built this bitch!'

– Stormin' Norman, Da 5 Bloods (2020) dir. Spike Lee
These men fought at the frontlines of a white American war. They were sent as bodies to protect a freedom that they themselves had never experienced, and to this day in many ways do not.
As they were midst flying bullets in the jungle, Martin Luther King, Jr. was assassinated. The film does not only explore race dynamics in the context of the U.S., but it also explores how the Vietnamese exploited the inhumane treatment of black Americans as a way to try to compel black soldiers to stop fighting as they were needed elsewhere.
Da 5 Bloods is unbelievably complex in its portrayal of war and the lives it forever changed. With brutally invigorating performances – Delroy Lindo's in particular, which is perhaps the most phenomenal performance of the year so far – it delves into trauma and politics in an astonishingly layered and rounded way, with no room or time for sugarcoating.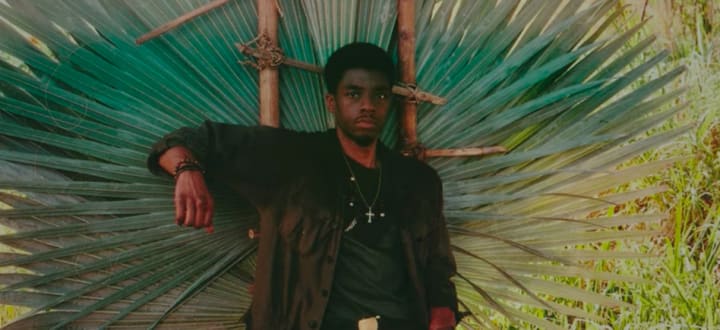 Netflix / Chadwick Boseman as Stormin' Norman in Da 5 Bloods
Cinematographer Newton Thomas Siegel was the one who pitched the idea of having the flashback scenes be shot on 16mm. Even though Netflix was sceptical, it certainly paid off. It created an incredibly immersive experience as it showed the war scenes exactly as we know them from real-life archives.
In these scenes, the characters are played by their present actors, without any de-ageing technology either (unlike in Scorsese's The Irishman). Some might find this distracting, but I personally found it to be a striking storytelling tool. It really hammers in the notion that these men, and everyone else involved, are constantly living through this war. For them, it is neverending.
As the stunning sweeping shots run over the screen, it is accompanied by an immensely powerful score by Terence Blanchard. Reminiscent of classic and theatrical Hollywood scores, the music empowers the story with vigour as we watch these men and their story unfold. The music, like in any Spike Lee joint, functions very much as the beating heart of the story; binding the visuals and characters together into a remarkable and heroic cinematic tale.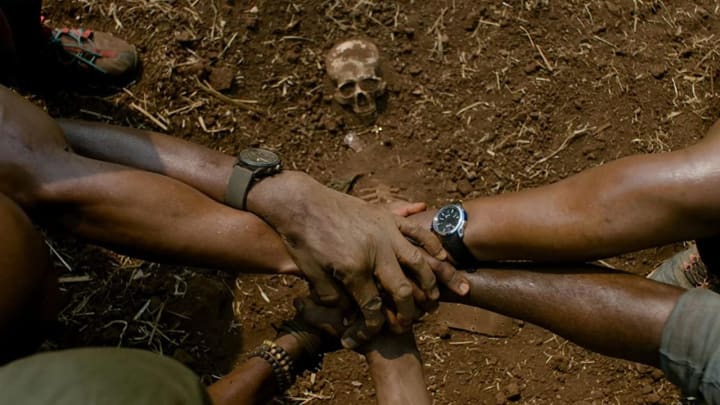 Netflix / Da 5 Bloods
This is a Spike Lee film. And if you don't usually like his work, you're probably not going to be too keen on this one. Some have said they've found it too messy, too intricate, and too long. But this is a story with so many layers that, in order to not just be shallow glimpses, requires proper time. Every single second in this 2.5hr movie is not only worth it, but it is essential to its storytelling ability.
A breathtaking follow-up to Lee's 2018 BlacKkKlansman, and a masterpiece on its own. It is safe to say that Lee is most certainly finished yet. This concoction of a war drama, western, scavenger hunt, and political commentary with a solid dash of classic Spike Lee humour, is a powerful story of pain, friendship, and how no man gets left behind; even in death.
Da 5 Bloods is available to stream now on Netflix.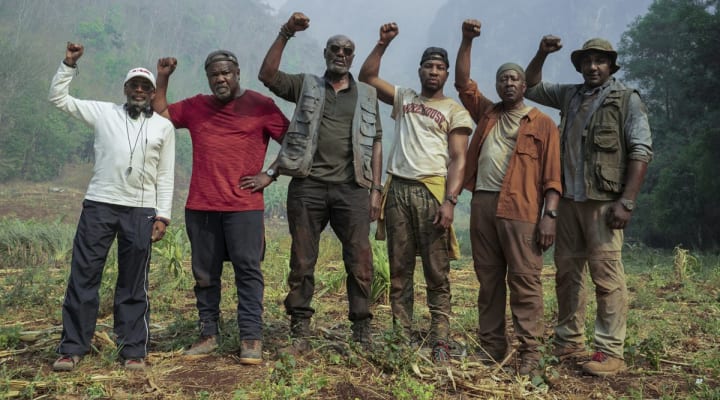 Spike Lee with the cast of 'Da 5 Bloods'